Weapon Conception
- CM 355 Sunflash -
Statistical Info
Base Stats
Damage/Projectile
205
410
615
Pierce
2
3 and
Projectiles / shot [?]
1
Rate of Fire
9
9
10
Capacity
105
110 and
Reload Time
2.25
Movement
-13%
-14% and
Firing Mode
Full Auto
Weapon Class
SMG
Damage Type

Energy

Approx. Drop Level
26
78 and
Ammo Cost
120 for 150 480 for 150HD
1200 for 150 4800 for 150HD
1440 for 150 5760 for 150HD
Single DPS [?]
1845
3690
6150
Pierce DPS [?]
3690
11070
18450
Additional Stats

The energy bolts fired by it are slower than most
_______________________________
Crafting
625,575 + 1,485 Alloy
2,755,915 + 26,610 Alloy
10,230,390 + 310,485 Alloy


"With a enhanced fusion core, the Sunflash generates high levels of compression on energy charges, producing powerful dense plasma bolts, that deals large focused damage."
―Unofficial Description
Description
Edit
CM 355 Sunflash is a top-tier

Energy SMG. A special power cell was designed specifically for it, wich generates astounding compression of charges, that, in turn, are also heavily condensed, producing exceptionally powerful plasma bolts. All of this at the cost of slightly slower projectiles and increase of general weight.


Top-down view of CM 355 Sunflash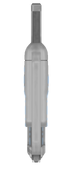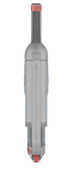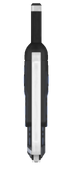 Sunflash was designed in response to the concurrent forces, which were also producing enhanced projects.

Ad blocker interference detected!
Wikia is a free-to-use site that makes money from advertising. We have a modified experience for viewers using ad blockers

Wikia is not accessible if you've made further modifications. Remove the custom ad blocker rule(s) and the page will load as expected.