"This is very dangerous operation. Huge tunnels have been discovered underground, and there's been reports of the infected coming out of these tunnels. You need to eradicate all the infected from these tunnels so the cleanup crew can safely collapse the tunnels. But be warned: we've had rumors of a extremely powerful being at the end of the tunnels. As such, we are sending you off with 7 other SAS Operatives."
-Description
Huge Tunnels is a special mission unlocked at rank 40 (O_O). The reason for this is that the boss is very powerful (Even more than a Savage Necrosis). All you have to do is get to the end and kill the Mega Worm. There is a maximum of 8 players, and a minimum of 4.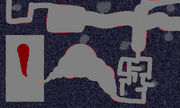 This is the map.  Legend is in the pic description.
There are many loot rooms in this map, and each one contains 2 loot items.
Start at the upper left corner
Make it to the tunnels (down the corridor in the upper left)
Clear the zombies (battle zombies for 45 seconds in the open space)
Defeat the regurgitator
Find your way to the maze
Walk through the maze
Defeat the Regurgitator
Investigate the large, open room
Win the boss battle
Ad blocker interference detected!
Wikia is a free-to-use site that makes money from advertising. We have a modified experience for viewers using ad blockers

Wikia is not accessible if you've made further modifications. Remove the custom ad blocker rule(s) and the page will load as expected.