"Lightweight construction and good power to weight ratio allow this helicopter to fly fast and sky high."
―In game description
3 possible real life appearances Edit
Top image:
Based off: https://en.wikipedia.org/wiki/Harbin_Z-9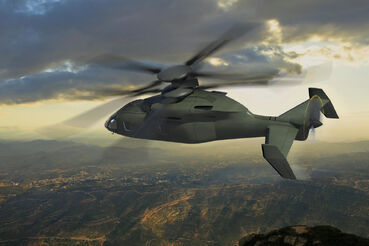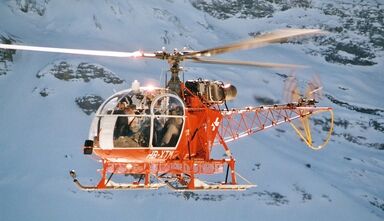 Middle image: Sikorsky S-97 "Raider" ☀http://www.cnet.com/pictures/helicopters-of-the-future-a-brief-history-pictures/
Bottom image: "Aerospatiale SA-315B HB-XTM" by Elisabeth Klimesch - airliners.netphoto. Licensed under GFDL via Commons - https://commons.wikimedia.org/wiki/File:Aerospatiale_SA-315B_HB-XTM.jpg#/media/File:Aerospatiale_SA-315B_HB-XTM.jpg
Some Basic Stats Edit
Developed by: Kaizen Corp., Mazda Motor Corporation
Manufactured by: Toyota Motor Corporation, Mazda Motor Corporation
Parts content: Japan (100%)
Place of assembly: Japan
Engine: Mazda engineered Impulse modified KMRM1 2.8 L twin turbo 4 rotor Wankel Rotary Engine
Horsepower: 700
Torque: 500 lb ft
Redline: 9200 RPM
Maximum speed of rotor: 3500 RPM
Fuel: Gasoline
Top speed: 300 MPH (600% in game)
Altitude limit: 18000 Feet
Weight: 2000 lbs (empty), 5000 lbs (fully loaded)
Length: 500 inches
Width: 77.6 inches
Height: 80 inches
Main rotor length: 35 feet
Secondary rotor length: 10 feet
Class: Helicopter
Guns: 2 modified M61 Vulcan Cannons, 2 Kaizen Takedown Turrets, payload of 5 Kaizen Kamikaze Type 2 self guided missiles, 1 EMP generator
Active abilities: Active abilities: Diagnostic and repair (Y), EMP (U), Launch Missiles (H). All active skills except Launch Missiles have a 90 second cool down. After all missiles are launched, they will be restocked in 3 minutes.
Passive abilities: High beam dazzle (applies concussion effect to enemies directly in front of the headlights for 5 seconds)
Max occupant number: 6
How to board: Walk into it
How to fly it: WASD for general movement. Up arrow to increase altitude. Down arrow to decrease altitude. Left arrow to increase speed. Right arrow to decrease speed.
Defense values: 2500 for physical. 1000 for chemical, thermal, and energy damage.
Health: 2000. Regenerates 600 health per second for 10 seconds if Diagnostic and repair skill is activated.
This vehicle is more of a light military air vehicle. It's meant for missions like rescue, troop transport, air support, surveying, etc. It is fast and has a lot of firepower, but does not offer high protection.
More facts Edit
MH - Special Operations Helicopter, and 1 states the fact that it's the company's first helicopter. It's also the company's only helicopter.
The Wankel Rotary Engine has a good power to displacement ratio, revs freely, has a high redline, is lightweight and compact, has less chance to seize, has very few components, and has no reciprocating parts, and operates smoother than conventional piston driven engines.
Thanks to Hunter-1-2-1 for helping me find suitable images.
Ad blocker interference detected!
Wikia is a free-to-use site that makes money from advertising. We have a modified experience for viewers using ad blockers

Wikia is not accessible if you've made further modifications. Remove the custom ad blocker rule(s) and the page will load as expected.