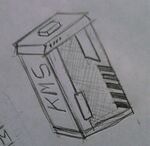 Koprulu Combat Battery is a model of battery manufactured by Koprulu Marine Supply. It is standard to most battery-powered weapons in Koprulu Sector.
It may be changed and altered to fit some battle conditions along with the weapon that uses it, but mostly only altered according to the weapon.
Most Common Variants
Edit
Micro KCBs are extremely small yet durable, designed to be used on small attachments such as laser sights
Small Arms
Edit
Small Arms variant is used for most pistols, but are sometimes used for SMGs and Shotguns. It has NeoSteel framing to prevent tragic explosion when it snaps in half, which is easy to do given its 2mm thickness at card-like usage.
Standard
Edit
So-called "standard" for all weapon uses, as set by Terran Dominion, it does not have NeoSteel in them as its carbon fiber casing is durable enough to be used for most assault rifles. Decently high capacity for everyday use (by that I mean on battlefields, which seems like everyday even on Koprulu Sector).
Specialty Discs
Edit
Those are not very common, but everyone admits that they're very useful on some occasions. In a shape of a disc, it's usually used on hover pads, but it is specially designed to be able to emit plasma discharge along the edges, which can be shot like a bladed disc.
Fusion Core
Edit
When you ram one of those into a weapon, usually LMGs, but also used for many others, you're going to shoot for a long, long time and you won't have to worry about replacing them as they can recharge by themselves if stopped shooting for few seconds, but also note that atomic fusion will eventually run out of hydrogen and helium at last, so it is advised to replace after a battle. Also nice to dig come charcoal out for bar-be-que after a mission.
Ad blocker interference detected!
Wikia is a free-to-use site that makes money from advertising. We have a modified experience for viewers using ad blockers

Wikia is not accessible if you've made further modifications. Remove the custom ad blocker rule(s) and the page will load as expected.