"A standard issue tactical knife. Good for clearing crowds around you."
―Official Description
The RIA tactical knife is a melee weapon, the first at that. Appearing in boxes at rank 7, no other melee weapon is this weak. However, the RIA Tactical Knife makes up for that by giving you a speed boost. It also deals quite a lot of damage in the arc area around it. Every 10 slices, you need to rest (reload). Do you think you can slice infinite times around you? I didn't think so.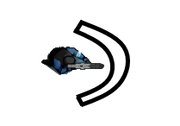 Ammo Cost: 120 for 50 High Damage slices. 1200 for 50 high damage [RED] slices.
Damage: 250 physical damage, 400 [RED]
Pierce: 10
Fire Rate: 2 rps
Reload Speed: 1.0 seconds
Capacity: 10 slices
Movement Penalty: +3%
Firing Mode: Semi Auto
Ad blocker interference detected!
Wikia is a free-to-use site that makes money from advertising. We have a modified experience for viewers using ad blockers

Wikia is not accessible if you've made further modifications. Remove the custom ad blocker rule(s) and the page will load as expected.